Statement on the Legislature's Tax Cut Package
Joint statement from Homes for All Mass, Right to the City Boston, and Massachusetts Law Reform Institute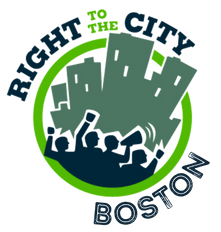 September 29, 2023
This week, leaders on Beacon Hill passed a tax cut package that will give hundreds of millions of dollars to wealthy residents and large corporations. We are deeply disappointed in this decision, which does not meet the urgent need to prioritize racial, economic, or housing justice.
Working-class communities and communities of color are facing levels of displacement that we have not seen in decades. During this crisis and the COVID-19 housing emergency, critical housing relief programs have been underfunded or terminated, leading to a dramatic increase in evictions this year. Throughout all of this, the state has told us that the money is not there to adequately fund these programs. Now, it is refunding hundreds of millions of dollars to high-income households instead.
We are also concerned that this package expands the Housing Development Incentive Program (HDIP), a program that
subsidizes the developers of market rate and luxury housing
with no affordability requirements, by tens of millions of dollars. Between the HDIP expansion and cutting the short-term capital gains tax rate by nearly 30%, this package will funnel millions of dollars in tax cuts to wealthy individuals and corporations that profit from the sale of expensive real estate. Additionally, the increased rental deduction will only put about $50 per year – $4 per month – in the pockets of renters.
We acknowledge that this tax cut package also contains some positive elements. It closes loopholes to protect gains made by the Fair Share Amendment, provides relief to seniors burdened by housing costs, and increases the Low Income Housing Tax Credit (LIHTC). However, these do not outweigh the negative impacts of failing to adequately invest in housing stability, or of redirecting public money to wealthy households, corporations, and developers instead of to community needs. Meanwhile, the help available from a key state rental assistance program was recently cut by 30% from $10,000 per year to $7,000 per year.
It is true that Massachusetts has an affordability problem, but it is offensive to those struggling to make ends meet to suggest that the solution is tax breaks for the wealthy, corporations, and the real estate industry. We have been told over and over that the state cannot afford to do what is necessary to keep working-class residents in their homes. This week's tax cut proposal makes it clear that the money is there, but the political courage is not.
###